Ittefaq Se (Raat Baaki) | Ittefaq | Sidharth Malhotra | Sonakshi Sinha | Akshaye Khanna
Home
›
Saregama Music
› Ittefaq Se (Raat Baaki) | Ittefaq | Sidharth Malhotra | Sonakshi Sinha | Akshaye Khanna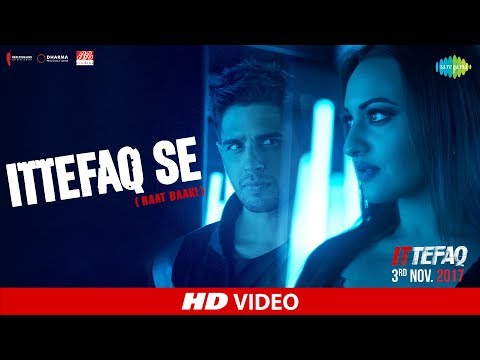 File Name :
Ittefaq Se (Raat Baaki) | Ittefaq | Sidharth Malhotra | Sonakshi Sinha | Akshaye Khanna
Presenting Ittefaq Se (Raat Baaki) - the title song of the film Ittefaq, which intrigued audiences with its trailer. The song is a beautiful rendition of 1982 Namak Halal's song 'Raat Baaki Baat Baaki'. The film stars Sidharth Malhotra, Sonakshi Sinha and Akshaye Khanna in lead roles, and is directed by Abhay Chopra.

Film Synopsis
Dev (Akshaye Khanna), a police officer, is investigating a double murder case that has only two witnesses, who are also the prime suspects. The suspects - Vikram (Sidharth Malhotra), an acclaimed writer, and Maya (Sonakshi Sinha), a young homemaker, have different narratives about the events of that fateful night. Both the stories seem true but there can be only one truth. Dev is torn between the two versions of the story, and will not settle till he finds out what happened that night.
The film releases in cinemas on 3rd November 2017.

Song credits:
Song: Ittefaq Se (Raat Baaki)
Singers: Jubin Nautiyal, Nikhita Gandhi
Music recreated by Tanishk Bagchi
Video Director & Choreographer: Adil Shaikh
Original composer: Bappi Lahiri
Original lyrics: Anjaan
Additional lyrics: Tanishk Bagchi, Groot
Programmed by Tanishk Bagchi
Whistles: Vijay
Mix assistant engineers: Michael Edwin Pillai
Recorded at Tanishk Studios
Song mixed & mastered by Eric Pillai(Future Sound of Bombay)

Producer and Film Credits :
Producer: Renu Ravi Chopra, Gauri Khan, Karan Johar
Director: Abhay Chopra
Star Cast: Sidharth Malhotra, Sonakshi Sinha, Akshaye Khanna
Banner: Red Chillies Entertainment, BR Studios & Dharma Productions

Label:: Saregama India Ltd.

To buy the original and virus free track, visit www.saregama.com

Follow us on:

YouTube: http://www.youtube.com/sare...

Facebook: http://www.facebook.com/Sar...

Twitter: https://twitter.com/saregam...