MI VS CSK (Thriller) MATCH 1 HIGHLIGHTS - VIVO IPL 2018 | With Commentary Recreated in Ea Cricket 07
Home
›
RK STUDIOS
› MI VS CSK (Thriller) MATCH 1 HIGHLIGHTS - VIVO IPL 2018 | With Commentary Recreated in Ea Cricket 07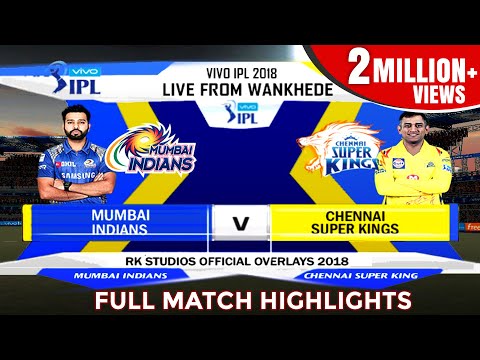 File Name :
MI VS CSK (Thriller) MATCH 1 HIGHLIGHTS - VIVO IPL 2018 | With Commentary Recreated in Ea Cricket 07
Thriller Match between the greatest IPL teams of all times, Yes it's MI vs CSK...
This video contains the Highlights of Match 1 - MI VS CSK of 11th edition of IPL i.e Vivo IPl 11 which is recreated in a PC Game - Ea sports cricket 07 (with commentary)
Mi vs Csk - 2018 1st Match - Honestly speaking it was one of the best IPL matches i have ever seen so that's why i recreated and brought it in a new way for you'll, the true fans...

About :
The commentary is taken from the original match and synchronized with game clips with the help of my editing skills (still in development).
I love to create such video's, so if you are interested in these types of videos then Do Subscribe!

Please note - This is a Pc game,more info here..

GAME DETAILS:
Original game - Ea sports cricket 07
Patch (Mod) used - Vivo IPL 18 [Best VS Best]
Kit's used - IPL 18 [As Provided in the patch]
Stadium used - Wankhede of IPL 16
Overlays - Self created [Kuldeep Rathore]

===================================================
Want the Latest Patch [Mod], Here's the links:

Download Ea sports Cricket 07 for free -
https://rkcricketstudios.bl...

Download Vivo IPL 18 (Best vs Best patch) -
https://rkcricketstudios.bl...

Watch trailer of IPL 18 (Best VS Best Patch) - https://www..com/watch?v=wV...

Watch How to Install the Patch (Best Vs Best) - https://www..com/watch?v=Gk...

Note : Watch the Installation video to avoid errors,game crashes and also to download this game!
===================================================

Request to Viewers:
Please Ignore some of the mistakes,it's very hard to recreate the same situation and that to in a pc game,so i hope you understand...
In this match, Kedar Jadhav was retired hurt, rested and then again came out when the team needed him, but the same is not possible in cricket 07 pc game,
So instead of that DJ Bravo scored more runs in this recreated game than that in the original match..

Some good observer may have noticed faults and mistakes in the video, so even though bad or hateful, your comments are welcomed...
I'm still a learner and in time i'll develop my skills to provide you more realistic gaming videos (Cricket)

Request to Ea Cricket Lovers:
Please do not ask for any logo, scorecard or scoreboard overlay,innings overlays,etc,etc, it's all created by me for the sake of this video!
I can't provide you the files,and even if i publish it commercially then it may be under copyright policy and also it's not designed for all matches, it's designed for this particular match or say video!
I'm sorry for that..

Special Thanks to NCA (Nine Cricket Arena) and Ender Güney (NCM) !
-----------------------
MUSIC CREDITS:
-----------------------
Title - Cukur Sezon 2 Cinematic Trailer Music / Royalty Free
Description: https://www..com/c/NCMEpicM...
Inspiration:
Composed By Ender Güney

Title - Time - Sad Epic Emotional Cinematic Music/Royalty Free
Description: https://www..com/c/NCMEpicM...
Inspiration:
Composed By Ender Güney

==========================

Thanks for Watching!
Do support my efforts and my channel.

KeyPlay -
#mivscsk
#mi
#csk
#ipl2018
#dhoni

Subscribe to get more IPL and other recreated videos on this channel..
I hope you loved it,if so then do comment and let me and other's know..
If any questions or suggestions then please leave it in the comment section..

It took more than 2 weeks to recreate,edit and present it to you, So are my efforts really Appreciable ? If so then hit like button..
Like goal - 1000 Likes (Earlier)
Now my Like Goal is 6000 likes.
Come on guys, you can !

Channel name: RK STUDIOS
Creator: Rathore Kuldeep

Have a Great Day!