Daryaa | Lyrical Audio Song | Manmarziyaan | Amit Trivedi, Shellee | Abhishek, Taapsee, Vicky
Home
›
Eros Now
› Daryaa | Lyrical Audio Song | Manmarziyaan | Amit Trivedi, Shellee | Abhishek, Taapsee, Vicky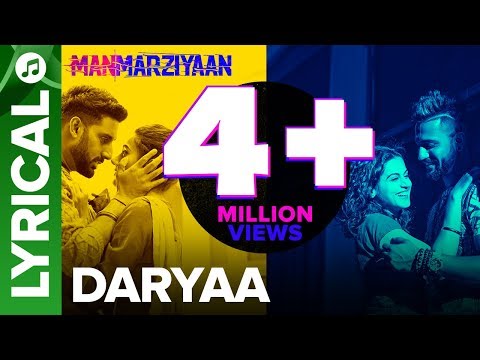 File Name :
Daryaa | Lyrical Audio Song | Manmarziyaan | Amit Trivedi, Shellee | Abhishek, Taapsee, Vicky
#Manmarziyaan Full Movie Streaming Now On Eros Now - http://bit.ly/2G9xqKX

When love chooses to hurt, every reason, every pleading seems right. A rustic Punjabi love ballad set to beats that shall leave you grooving and longing. #Daryaa is an original soundtrack featured in the upcoming #AnuragKashyap release, #Manmarziyaan. In theatres, this September 14th.

Singers: Ammy Virk & Shahid Mallya
Music: Amit Trivedi
Lyrics: Shellee
Produced & Arranged By: Amit Trivedi
Recording Engineers A T Studios Mumbai - Abhishek Sortey & Urmila Sutar
Assisted By: Firoz Shaikh
Mixed & Mastered By: Shadab Rayeen, A T Studios & New Edge - Mumbai
Assisted By: Abhishek Sortey & Dhananjay Khapekar
Executive Producer: A T Studios - Krutee Trivedi
Head Of Production: A T Studios - Aashish Narula
Programmed By: Amit Trivedi, Gourab Dutta & Vineeth Jayan
Flute By: Paras Nath
Guitar By: Sanjoy Das

Movie: Manmarziyaan
Cast: Abhishek Bachchan, Taapsee Pannu & Vicky Kaushal
Directed By: Anurag Kashyap
Produced By: Aanand L Rai & Phantom Films

For Callertunes Dial:

Airtel - 5432116568928
Vodafone - 53710604815
Idea - 5678910604815
BSNL (South/East) - SMS BT 10604815 to 56700

Play Free Music back to back only on Eros Now - https://goo.gl/BEX4zD

For all the updates on our movies and more:
https://www.youtube.com/Ero...
https://twitter.com/#!/ErosNow
https://www.facebook.com/Er...
https://www.facebook.com/er...
https://plus.google.com/+er... https://www.instagram.com/e...