Makaronia Tou Fourno As Made By Hannah Simone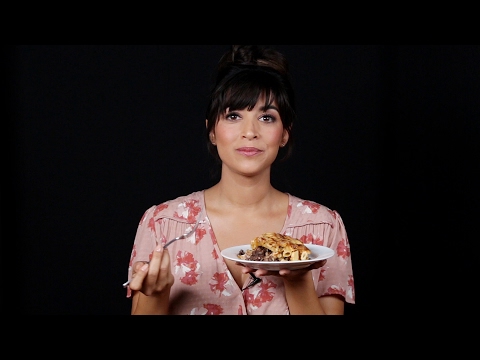 File Name :
Makaronia Tou Fourno As Made By Hannah Simone
FULL RECIPE: https://tasty.co/recipe/mak...

Here is what you'll need!

MAKARONIA TOU FOURNOU, AS MADE BY HANNAH SIMONE
Servings: 12

INGREDIENTS
½ cup red wine
4 cloves garlic, minced
¼ cup onion, diced
3 pounds ground pork
1 teaspoon cinnamon
6 tablespoons dried mint, divided
1 tablespoon black pepper
2 cups halloumi cheese, grated and divided
16 ounces ziti pasta, cooked al dente
½ stick butter
½ cup flour
2 cups milk
½ teaspoon paprika

PREPARATION
Preheat oven to 350°F/180°C.
In a wok or large skillet, pour the red wine. Add garlic and onion, and sauté until tender.
Add the pork, and cook thoroughly.
Add the cinnamon, 2 tablespoons mint, pepper, and parsley, and mix together.
In a small saucepan, melt butter.
Add flour a little at a time, mixing constantly, until it forms a paste.
Add milk a little at a time, whisking constantly, until fully combined.
Add paprika, and stir until thickened.
In a large casserole dish, lay down half the ziti. Sprinkle on 1 cup of halloumi and 2 tablespoons mint. Top with entire pork mixture, then the remaining halloumi, mint, and pasta.
Top entire mixture with the sauce, and cover with foil. To prevent foil sticking to the sauce, place a toothpick in each corner of the dish to prop the foil up.
Bake 45 minutes, then broil for 5-10 minutes. Let cool 15 minutes.
Enjoy!


Check us out on Facebook! - facebook.com/buzzfeedtasty

MUSIC
Make it Snappy Full Mix
Licensed via Warner Chappell Production Music Inc.

Created by https://www.buzzfeed.com/bf...